Water Quality in Ingham County
We all live in a watershed. What we do, both on the land and in the water, affects the quality of our lakes and streams.  Learn what the ICD is doing and what can you do to help conserve our precious water resources.
What is a watershed?
A watershed is any area of land where all the water drains to a common water body. Everyone lives in a watershed.  Sustainable land use and establishing Best Management Practices, particularly on land adjacent to waterways, is key to healthier and more enjoyable rivers, lakes and streams.
Fall 2018 Stream Team
Bug ID 2018
Fall 18 Stream Monitoring
Fall 18 Stream Monitoring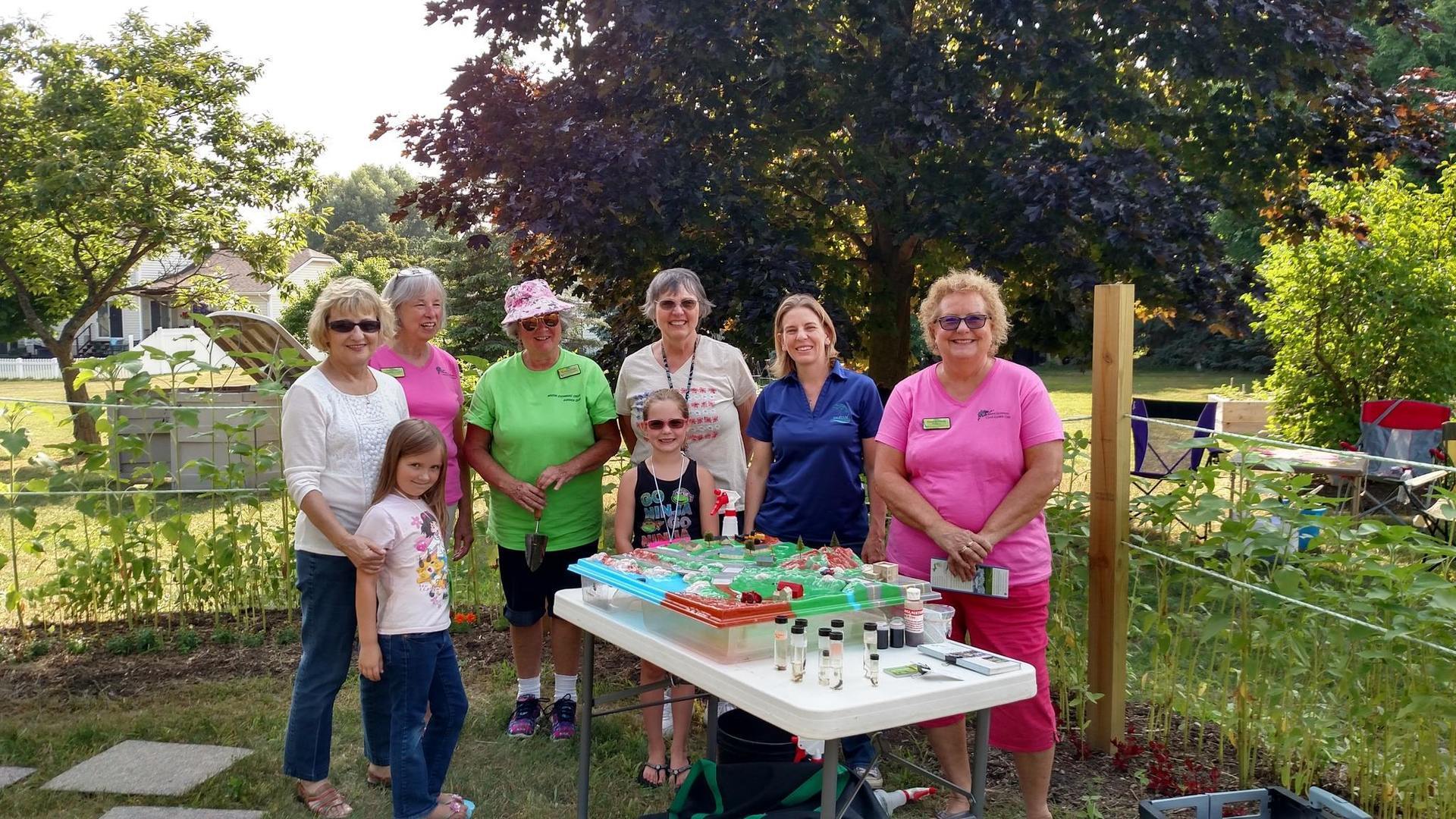 Water Quality Presentation for Sunflower Learning Center
Community Rain Barrel Workshop
Rain Barrel at Okemos Public Library
2018 Rain Barrels
Rain Barrel at Mason Pink Schoolhouse
Smart Management of Microplastic Pollution
Smart Management of Microplastic Pollution in the Great Lakes
Working to better understand and reduce microplastic pollution in our rivers and lakes.
Join us for an upcoming presentation on this project.
Eligible Williamston residents can sign up for a free microplastic filtering laundry bag!
January 22nd – 12:30 pm – Williamston Senior Center
Postponed

: March 26th – 5:30 pm – Williamston Public Library
About the Project
Microplastics are plastics that are 5mm or smaller and a growing environmental concern. They can be manufactured and found in cosmetic products, paints and glitter, or result from the breakdown of larger plastics (bags, bottles, straws, etc) as well as from the shedding of synthetic fibers from our clothing. These small particles are found in our rivers, lakes and oceans, our drinking water and food, and in environments around the globe. More work is needed to increase awareness of this pollutant and explore ways to reduce this form of plastic in our environment.
In 2018, The Great Lakes Protection Fund awarded Wayne State University with a three-year, $929,000 grant to develop Internet of Things (IoT) sensor technology that will not only help zero in on microplastic sources but will also inform community outreach and mitigation efforts. The project is led by Yongli Zhang, assistant professor of civil and environmental engineering; Mark Cheng, associate professor of electrical and computer engineering; Weisong Shi, professor of computer science; Carol Miller, professor of civil and environmental engineering; and Donna Kashian, associate professor of biological sciences. See the full Wayne State Engineering Department press release here.
The Ingham Conservation District and ReRoot Pontiac are engaging with two communities that have volunteered to be test locations for the new technology. In Ingham County, the Ingham Conservation District is working closely with the City of Williamston to raise awareness of microplastics and to test and evaluate mitigation techniques. ReRoot is working with the City of Pontiac.
Progress to Date:
The Project Team has held 2 meetings with an international Advisory Board whose members are tasked with providing insights and feedback on project goals and disseminating information on microplastic prevention and adoption of sensor technology across the Great Lakes Region.
Focus groups in both pilot communities have helped assess the awareness, perceptions and concerns surrounding microplastic pollution.
A Microplastics Fact Sheet has been created to share information on the project. Other outreach information is under development.
WSU has created a prototype of the sensor and a library of plastic signatures for measuring the amount and type of plastic in water samples.
A project website has been created. Visit https://microplastics.wayne.edu/ to learn more.
Getting Involved:
The ICD is excited that the City of Williamston wants to be a leader for understanding microplastic pollution and the best ways to engage communities and help mitigate this form of pollution. One of the main sources of microplastic pollution in waterways is from fibers released from clothing or other fabrics made from synthetic materials such as nylon, polyester, rayon, acrylic, spandex, etc. In Williamston, we will be exploring ways to reduce this form of pollution. If you would like to learn more about this aspect of the project, please contact Michelle Beloskur at michelle.beloskur@macd.org or use the link below to be placed on our contact list. Just type "Microplastics" into your subject line and we will keep you informed as this project develops.
Volunteer Stream Monitoring Program - Ingham Stream Team
Spring Stream Team Event – October 10, 2020
Volunteers either wade in the water and collect macroinvertebrates, "bugs", or stay on dry land and help sort through what we find. Each Collection Day is followed by a Bug Identification Night. Staff and volunteers use microscopes and reference materials to identify the macroinvertebrates found on Collection Day. The type and diversity of invertebrates found at each site provides insight into the health of the waterway at that location and can be used to identify environmental trends and target conservation efforts. This data greatly supplements the data collected by the Michigan Department of Environmental Quality. Thank you to all our Stream Team volunteers who have helped us collect this watershed data!
Bug Identification Night – Date TBD
Help identify the macroinvertebrates collected at our Stream Team Event.  We will meet from 6:15 pm – 8:00 pm at MSU's Natural Science Building, Room 352.  No experience is required, but familiarity using a dichotomous (identification) key is helpful.  Parking is free at many meters and lots on MSU campus after 6:00 pm, but be mindful of signage.  Thank you to the staff and students of the MSU Entomology Department for providing laboratory space and sharing their expertise in identification!
Click on the links below to see results from our previous years of sampling.
We are encouraged that most of the sites where we have at least 3 years of consecutive season data, we are seeing gradual improvement in the number of sensitive macroinvertebrates collected.
Rain Barrel Workshops
Rain Barrels: A beautiful, useful way to conserve water!
Most rain barrels collect water traveling off rooftops via gutters and downspouts. A typical 1-inch rain event falling on a 1,200 square foot roof can generate 700 gallons of runoff! If this water is funneled into a storm drainage system it adds to rapid fluctuations in river levels which can exacerbate flooding and erosion. Runoff also carries pollutants picked up from the surfaces it encounters before finally arriving a a local river or lake. When rain barrels are used, water is collected where it falls, reducing runoff and providing an irrigation source for gardens and other landscape watering.
In 2018, the ICD organized its first Community Rain Barrel Workshop. Organizations able to display and use a rain barrel were invited to attend this free event where they heard a water quality presentation and then had the opportunity to assemble a rain barrel for their organization's use.
As you see these rain barrels displayed across the county, we hope they will inspire you to think about how you can conserve water. Everyone can conserve water, whether you build or purchase your own rain barrel, construct a rain garden, install water saving bathroom fixtures or simply remember to turn off the tap when you wash dishes or brush your teeth.
Thank you to the River Network for providing the rain barrel kits, Coca-Cola for providing the barrels, REACH art studio for painting the barrels and MSU Department of Community Sustainability and the Great Lansing Regional Committee for Stormwater Management for their support.
We hope to offer a similar event for residential homeowners in the near future. Stay tuned!
Red Cedar River Watershed
The Red Cedar River Watershed is 461 square miles, originating in Livingston County and extending west to cover most of Ingham County and portions of Clinton, Shiawassee and Eaton County.  The watershed includes a variety of land uses including agriculture,residential development, commerical and industrial development as well as natural landscapes of wetands and forest.  The MSU Institute of Water Research recently drafted a Red Cedar River Management Plan to assess the health of the watershed and plan for long term resource mangagement to address both known and potential issues that face this watershed. The Watershed Management Plan has been supported and approved by the MDEQ and funds are being sought to implement projects and educational efforts that will help address issues facing the watershed such as bacterial pollution and low oxygen levels.
Middle Grand River Watershed
The Middle Grand River watershed encompasses approximately 258 square miles across Eaton, Ingham, Clinton and Ionia Counties.   With the support of the Michigan Department of Environmental Quality (MDEQ), the Eaton Conservation District has developed a Watershed Management Plan for the watershed to assess the state of the watershed and develop long term strategies to address known and potential issues facing the watershed.
Learn more about how other local organizations are addressing watershed health:
Michigan State University Institute of Water Research 
– The Institute of Water Research (IWR) at MSU provides timely information for addressing contemporary land and water resource issues through coordinated multidisciplinary efforts using advanced information and networking systems. Activities include coordinating education and training programs on surface and ground water protection, land use and watershed management, and many others. The MSU IWR has developed an approved Watershed Management Plan for the Red Cedar River Watershed.
Tri-County Regional Planning Commisssion
 – The Tri-County Regional Planning Commission (TCRPC) is a voluntary organization of local governments and agencies organized to foster a cooperative effort in resolving problems, policies and plans that are common and regional with the greatest benefit to citizens of the Tri-County area while maximizing the efficient use of its resources.  Environmental services of the TCRPC include stormwater management, groundwater management and educational outreach.
Upper Grand River Watershed Alliance
 – The Upper Grand River Watershed Alliance is a coalition of municipalities, agencies, businesses and individuals in the headwaters region of the
Grand River
, Michigan's longest river, working together to protect and restore the river, its lakes, streams, and wetlands.
Grand River Environmental Action Team (GREAT)
 – The Grand River Environmental Action Team is a local nonprofit organization dedicated to the protection of and restoration of the Upper Grand River Watershed.  GREAT organizes clean-up activites and monthly public canoe outings to create environmental awareness.
Mid-Michigan Environmental Action Council (Mid-MEAC)
– Mid-MEAC focuses on environmental issues in Clinton, Eaton and Ingham Counties. From river cleanup projects to monthly land use lunches, Mid-MEAC is committed to helping translate environmental concerns into action by providing education, advocacy and volunteer opportunities.
Small contributions do have big impacts!
Please check out our brochures on bacteria reduction and see how we all can help improve watershed health.